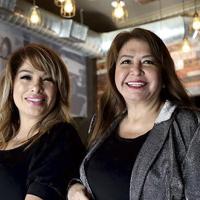 The new owners of two local radio stations are keen to engage the community. | 831 (Tales from the area code)
To the sound of mariachi music, along with tacos and wine on a September day in downtown Salinas, a couple of Latino entrepreneurs announced that they now own La Buena and Luna, two radio stations in Spanish located in East Alisal.
Daisy Ortiz and Vanessa Diaz, friends who have worked in the radio industry for decades, decided to embark on a new adventure when they heard the stations were on the market. But it was not an easy decision to make.
"Sometimes we have asked ourselves, 'Are we doing this at the right time? ", Says Ortiz.
They were a little hesitant for obvious reasons – the pandemic, the uncertainties of owning a business even if there is no pandemic – but they settled on 'it's now or never'.
Due to Covid restrictions, they couldn't contact people in the same way. Marketing, connecting with listeners, learning about local trends have become more nuanced.
But their radio experience paid off. They started to produce local projects like You See, You Community – Your Voice, Your Community – a 30-minute weekly program devoted to interviews with local leaders, experts and directors of nonprofits, creating a platform where organizations can share information for free.
"We want to help, give and communicate how important it is to provide [information] to people, "says Diaz, adding that supporting their listeners is something they've built into their music stations.
On the program, they tackle subjects such as economic development, education and health. They also aired a special segment during Hispanic History Month where third and fifth graders came to the studio to talk about who they admire and why. Their stories were shared on the air.
"We worked for other people," says Ortiz. "This is the first time we've owned a property, so now we can do it however we want."
Stations air 15- or 30-second PSAs for nonprofits, and community leaders are invited to participate in Tu Voz, Tu Comunidad. They work with several local organizations, including the nonprofits Harmony at Home and Hospice Giving Foundation, and the Salinas United Business Association.
And there is always music.
La Buena de Salinas ("La que más suena") 103.5 FM, is a Mexican regional music station, broadcasting classics by Ramon Ayala, Vicente Fernandez and others, alongside contemporary artists such as Grupo Firme and Christian Nodal. It also offers three live shows during the day, including 5 a.m. with Don Cheto and 11 a.m. with La Doris Noriega. Noriega has two segments: a news program called The Policiaca and Barra Libre, where she screams and plays song requests.
Luna ("Donde cantan las estrellas") 106.3 FM, is a mix of different genres ranging from pop to ballad, rock and reggaeton. There is a live show with Junior Pardo, a Colombian who moved to the area a few months ago and is in charge of the morning program.
Diaz serves as a content creator, choosing music, finding talent, producing entertainment features. Ortiz is in charge of sales and advertising. The two have heard that music in Spanish is not suitable locally. "People feel like if you're a millennial or a bilingual Hispanic in this community, you might not be listening to La Buena," she says.
But they say it isn't.
"We are always linked to our loved ones, our sensitive cords to our culture," says Ortiz. Like many residents of Monterey County, she has family in Mexico and elsewhere in Latin America. Music brings them together. Latin Americans, Anglo hipsters, first and second generation immigrants: "It's a complete picture of who our audience is. "
The two women say they are here for the long haul and in five years they will own these two radio stations and hopefully a few more.
"When you offer the complete cross-platform – radio, video, digital and social media – you can help grow your business, that of your customers, you can help educate the Hispanic consumer," says Ortiz.