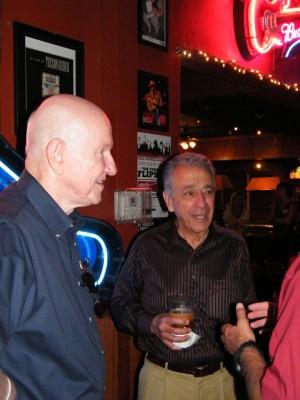 KTKT alumni remember 'Color Radio, Channel 99' | New
[ad_1]
It has been almost half a century since KTKT Color Radio, Channel 99 "owned" the Tucson airways with the introduction of the top 40 in music.
Frank Kalil, one of the original doo-woppin 'Swinging Seven DJs, is behind the concept and he proudly admits, "Back then it was radical (and) we kind of blew up the market gates.
Do they have? And how! Writing in the Tucson History section of The Broadcast Archive website, engineer and historian Barry Mishkind notes: "KTKT had stratospheric ratings. Their staff was the second best thing to the local royalty.
Bearing witness to this popularity during the decade of the 1960s, the station's historic tribute page notes that KTKT, on several occasions, had more audiences than the total listeners of all other radio stations combined – and in 1969 there were a dozen more, all on the AM dial.
A newspaper ad in the mid-1960s showed a police photo of DJ Kalil wearing prison stripes under the headline "Wanted for Stealing (68.2% of Tucson Home Radio listeners). Also suspected of breaking into the vast automotive public in Tucson. The announcement, according to the AZsurvivors.com Webpage, said the Swinging Seven DJ's "guilty of kidnapping an audience sometimes larger than all the other stations in Tucson put together."
Time flies, station ownership and formats change, and personalities change – until September 1, when former on-air set turners and other former KTKT staff gathered at the Maverick to recall their resort's heyday. The passage of time was evident when long hair and 1960s tie dye was replaced by thinning and – or bald – hair and orthopedic shoes.
Probably the best known of the attendees was "the plan man," Kalil, now 76, who told the 40 or so others: to talk about what is now a Spanish-speaking station.
The KTKT Farm Page calls him the # 1 Disc Jockey of all time – "The best Tucson DJ ever. Competitors came and went. They couldn't beat Frank. Students flocked to their radios after the last one. school bell to listen to Kalil's program, intelligently placed in the after school time slot from 3 p.m. to 6 p.m.
"He was unofficially the untitled program director, the one who ran the machine that made KTKT the most popular radio station among teenagers in the 1950s and 1960s," according to Tom Phillips' radio on the Border blog. "He demanded that you act professionally.
"Frank was my boss, a tough job master who insisted on perfection," said former Swinging Seven DJ Ray Lindstrom. "He wanted the station to be fast, narrow, with no dead air – fast, lively and interesting. And we delivered. It was either that or our job.
Kalil continues to be professional as the owner of Tucson-based Kalil & Co. Inc, which he describes as "the largest media brokerage firm in the United States". A few years ago, Kalil & Co. would have done more business than everyone else. from other media brokerage firms combined.
"I can assure you that there was never a plan for me to be a media broker. All I ever wanted to be was a DJ – I loved it, "he says. "All this talent in one place. No wonder we were great! "
"Kalil made KTKT what it was, long before I appeared without warning," said Phil Richardson, who spent an eventful decade as a station manager, "The peak of my long and eventful radio career, "as he put it.
Abruptly snatched from a DJ sales job at KRUX radio in Phoenix, Richardson was transferred to Tucson within hours. "How many people are offered the opportunity to run a radio station with almost no direction from the owners? " he said.
Ah, the good old days when former chairman of federal communications Newton Minnow described the off-grid station KTKT as "playing sound recordings interspersed with many commercial messages." Lots of announcements.
"The Minnows analysis of our programming was accurate," says Richardson, "Up to seven commercials sandwiched between two 45 RPM Do-Wops. But no one complained.
A number of former KTKTers did not make it to the reunion – some are now making records for an audience of Heavenly Hosts, others are retired and have moved on. Those who took part put together a "blast from the past" playlist of professionals: Kalil; Lindstrom, Roger Collins, Ed Alexander, Jim Arnold, Tom Lang, Lou Waters, Bob Lee, Jim Gilley, Mike Letson, Jay Zucker, Jim Bednarek, Sharon Kha, John C. Scott and others.
Lee Allen, a regular contributor to Inside Tucson Business, is himself a former KTKTer as director of information and public affairs. He says he still remembers the closing line from the TV news: "If you don't want this to be heard on the KTKT news… don't let this happen. "
[ad_2]