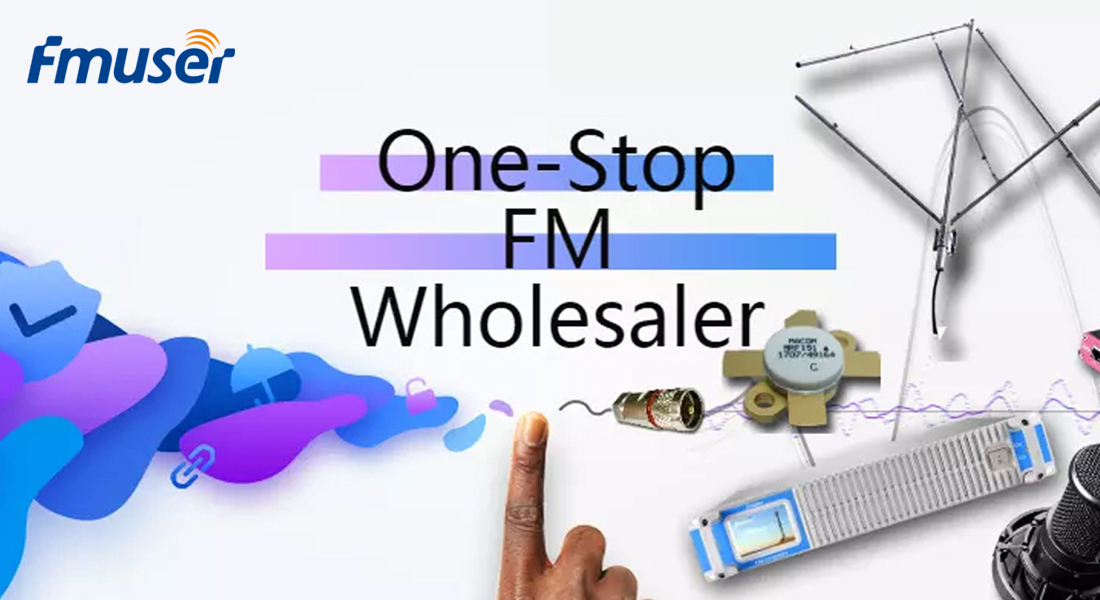 FMUSER FU-1000C 1KW FM Transmitter Helps FM Radio Stations Reduce Construction Costs
"FMUSER is one of the best broadcast equipment manufacturers engaged in global sales."
FMUSER has launched a cost-effective 1KW FM transmitter FU-1000C, aiming to reduce the purchasing cost for low-budget buyers who want to build their own FM radio station.
Price is one of the most important factors for your FM radio transmitter purchasing choices. If you need to create an FM radio station with a low-cost FM broadcast transmitter, FMUSER FU-1000C 1000 watt FM radio transmitter can meet your needs. This is the most economical 1 KW FM transmitter I have ever come across.
Although it is much cheaper than the other 1000 watt FM transmitter, it still has outstanding performance. Its design, audio quality, functions, operation and other aspects are satisfactory.
After I got the FMUSER FU-1000C, I just experienced using this FM stereo transmitter. And I will share my views on the FU-1000C at the end of this sharing. Let's keep reading!
Price
I have noticed FMUSER FU-1000C before, and its price was around 2300USD. But recently, I saw that its price has dropped, and it's on sale for $1,840 now! There is no doubt that the FU-1000C is one of the best low cost 1000 watt FM transmitters today.
FMUSER is a China FM transmitter manufacturer, and you can contact FMUSER to buy FU-1000C 1000 Watt FM Radio Transmitter at the most economical prices now!
What we like
1. Compact structure and attractive appearance;
2. Humanized protection functions;
3. Simple and convenient operation;
4. Convenient SWR scanning function;
5. Powerful audio transmission performance.
First impression
After unpacking the box, the appearance of the FU-1000C attracted me. Its facade is very simple. On the left is a huge cooling fan air intake window, in the middle is a USB interface, and on the right is a display screen and settings button. It seems that all operations are completed with the setting button.
His back is completely different from the front. In addition to the power key and four exhaust windows, its back is also equipped with many expansion interfaces, including RDS interface, RDS volume adjustment knob, seat audio input interface XLR, one RS232 interface and one double lotus audio input interface.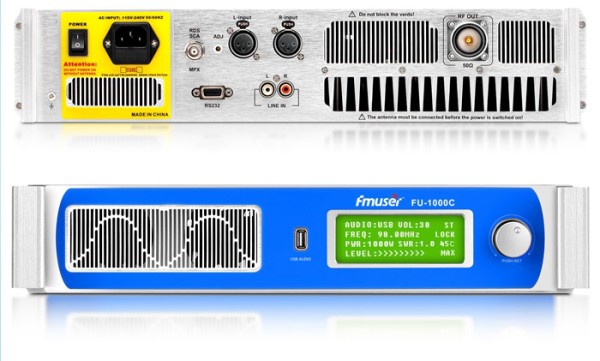 It shows that FU-1000C supports stereo audio input and subcarrier input, which is necessary for professional radio stations.
In addition, its heat dissipation performance seems very excellent.
Moreover, it looks so compact that it is hard to imagine how many functions the stereo FM transmitter can be equipped with.
To light up
I tried to turn on the FU-1000C without connecting to the antenna (NOTE: Be sure to connect to the FM antenna when using the FM radio transmitter). I found that his screen showed that he was in protection mode, and there was nothing I could do.
This protection feature is a surprise to me. I have never seen such protection function design on the traditional FM broadcast transmitter! This helps to avoid damage caused by the FM radio transmitter not connecting with the FM antenna.
Then we reconnect the FU-1000C with the FM antenna and turn it on. Its screen displays the current working status of the machine, including the actual working frequency, output power, working temperature and some other parameters.
Adjustable setting options
These parameters of the FU-1000C 1KW FM Radio Transmitter mentioned above can be adjusted one by one by rotating and pressing the adjustment knob. If you turn the adjustment knob clockwise, you will see these 14 options on the screen in turn:
Among them, I am most impressed with these 5 options:
Frequency set – It allows the user to adjust the working frequency from 87.0 MHz to 108.0 MHz, in steps of 50.0 kHz.
RF on/off and Real Power – You can enable or disable the transmission status of the FU-1000C, i.e. whether to transmit radio signals. In addition, the transmission power is adjustable from 0 to 1000 watts.

Temperature setting – The protection temperature range can be set here, which is adjustable from 50℃ to 75℃. At the same time, it also displays the real-time working temperature of the FM broadcast transmitter.
Newspaper set – FU-1000C also provides log record query, which records the alarm and FM radio transmitter usage status so far, which contains alarm time, call number alarm, total number of alarms, alarm type, working time, temperature, SWR and transmit power.

Digitization set – This is such a handy feature. The FM broadcast transmitter would scan the standing wave of the entire frequency band and display 3 frequency points with the lowest standing wave value.

It can be seen that the FU-1000C 1 KW FM transmitter provides many adjustable parameters to better meet the different broadcasting needs of different broadcasting providers.
In addition, the operation of the adjustment button makes me feel very pleasant and comfortable. It's surprising that so many settings options can be adjusted quickly with a simple press and twist.
Sound quality
We tested the audio transmission performance of the FU-1000C 1KW FM Transmitter in a country town without high-rise buildings.
I temporarily ran it with the output power of 100 watts, the frequency with VSWR of 1.5:1, and connected a simple FM dipole antenna to it. In addition, I use a USB flash drive as the sound source for the stereo FM transmitter, which stores my favorite songs.
After a few minutes of installation, we drove to a place about 10 kilometers away and we could still listen to the clear songs without noise. This is an encouraging result!
It also shows that the excellent audio parameters of the transmitter are real, such as only 0.02% distortion, up to 70dB signal-to-noise ratio, 60dB stereo separation, etc.
Specifications
RF part

Modulation

Frequency modulation

Frequency stabilization method

PLL phase-locked loop

Nominal transmission frequency

87 MHz – 108 MHz (custom)

Frequency deviation

±75Hz

The frequency step value

50kHz

Output impedance

50Ω

RF output connector

L29-K or other specified connectors

Output RF power

0 -1000 W continuously adjustable

The output power gap

±10W

RF efficiency

> 75%

Pilot frequency deviation

±0.1Hz

Suppression of harmonic radiation

Internal Residual Wave Radiation

Harmonic radiation with high temporality

Parasitic modulation noise
audio part

Audio input interface

XLR/USB/RCA

Audio input level

Sign noise ratio

≥ 70 dB (1 kHz, 100% modulation)

Stereo Separation

≥ 60dB (L→R, R→L)

Distortion

≤ 0.02% (30Hz – 15,000Hz, 100% modulation)

Response frequency

50 – 15000Hz

Audio preloading

0μs/50μs/75μs optional

Left and right channel level difference

≤0.05dB (100% modulation)
General part

Chassis size

2U (length 530mm × width 340mm × height 100mm)

Chassis size

2U (length 20.8 inches × width 13.3 inches × height 4 inches)

Machine weight

10kg

Machine weight

22 pounds

heat dissipation

Mode: Air cooling

Chassis standard

19 inch

External control interface

RS232

The mode of protection

high temperature and high VSWR protection supported

Relative humidity

Altitude Height

Supply voltage

100 VAC – 240 VAC / 50 Hz

Run room temperature

-10°C – + 45°C

Max power

Consumption: 1500W
Is the FU-1000C worth it?
If you ask me what is the best 1000 watt FM radio transmitter currently, I would say FMUSER FU-1000C.
First, the competetive price. For most FM radio station owners, especially for those who create FM radio stations for the first time, it can save a lot of purchasing cost;
Second, its outstanding transmission performance and 14 optional settings allow it to perfectly meet different broadcasting needs, whether it is urban radio stations, broadcasters, professional FM radio stations, amateur FM radio stations, etc.
Finally, his humanized protection functions and easy operation method can make it easier for everyone to get started, even for the rookie.
The above is just my simple experience. Maybe you should also try the FU-1000C, it would surprise you a lot!
If you have any questions about the FU-1000C, or have other better ideas, don't hesitate to contact us!
Media Contact
Company Name: FMUSER broadcast
Contact person: Tom Lee
E-mail: Send an email
Call: +86-139-22702227
Address:Room 305, HuilanGe, No. 273, Huangpudadaoxi Road, Tianhe District
City: Canton
State: Guangzhou, 510620
Country: China
Website: www.fmradiobroadcast.com