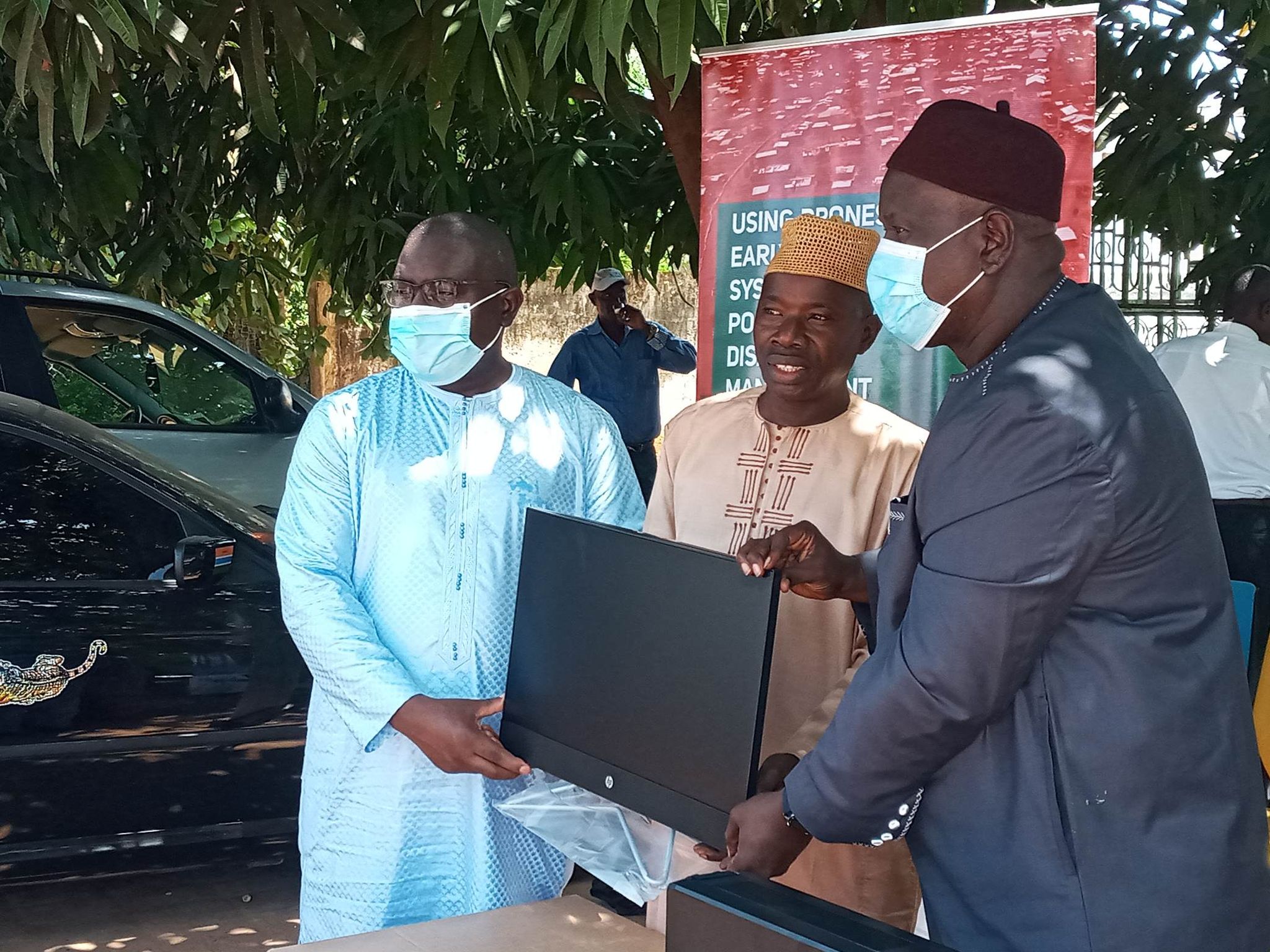 Community radio stations play a vital role in disaster management –
By Kebba Ansu Manneh
Sanna Dahaba, Executive Director of the National Disaster Management Agency (NDMA) revealed that community radio stations play an important role in disaster management, they are the most accessible means of communication before, during and after events. disasters.
The NDMA Executive Director made the statement on Thursday, October 7, 2021 at the agency's office, where the agency, with support from UNESCO, presented computers and accessories to nine (9) stations. community radio stations across the country.
"In The Gambia, radios are the most accessible means of communication before, during and after disasters. It is at the heart of the communication and democratization process of societies, "said Sanna Dahaba, executive director of NDMA.
He added: "We can all attest to the fact that in order to reach people who are socially isolated and living in remote areas, community radios have been established to serve their communities as channels of expression and information. Thus, in the management of Early Warning Systems, community radios are an essential player in the information and communication circuit.
Dahaba observed that in order for community radio stations to continue doing their jobs effectively, they must have a workforce and equipment trained to fulfill their mandate, adding that without them, radio stations community cannot accomplish the gigantic task entrusted to them for society.
"This project is part of the agency's objectives in the National Development Plan (NDP 2018-2021), which is to ensure that there is an" availability of early warning and early action available throughout the country ", and in line with target G of the Sendai Framework for Disaster Risk Reduction 2015-2030 (access to multi-hazard early warning systems and disaster risk information and assessment)," executive director of NDMA.
According to him, the presentation of these computers and accessories is part of a project called "Use of drones and early warning systems for disaster management before and after floods in The Gambia", adding that the project is funded by the Indian government. through the India-UN Development Partnership Fund. "The Gambia being very sensitive to flash floods, this project will play a key role in building resilience to natural hazards and disasters, especially with the use of community radios.
The Gambia's vulnerability to floods and other hazards is indeed increasing in terms of affected population in recent years and the year 2020, alone more than 91,000 people in the country have been affected by hazards. natural, mainly in the form of flooding, "Sanna Dahaba revealed.
He added: "This large number stems from the fact that many people currently live in areas prone to flooding and that the population's access to early warning information is limited. This project will ensure that the country is better informed about early warning information in order to improve community preparedness to respond to threats, especially climate-related risks.
The NDMA Executive Director observed that the project is essential for the achievement of national socio-economic development aimed at improving the disaster preparedness and management capacities of institutions and communities, noting that by mitigating the impact of risks natural resources, we must protect the environment, improve agricultural productivity and improve lives and livelihoods.
Michel Elvis Kenmoe, representative of the UNESCO Regional Office in Dakar, said the presentation of these documents will go a long way in mitigating disasters in the country, noting that it will strengthen the capacity of community radio stations to disseminate information. early warning to communities before disasters strikes.
"We believe that community radios can play a major link between the early warning systems set up by NDMA and the communities. This will ensure that the dissemination of information to and from NDMA to communities will be facilitated and it will strengthen disaster risk management in the country, "said Michel Elvis Kenmoe.
Yuspha Bojang, President of the Gambia Community Radio Network (NCRG) welcomes the gesture of NDMA and the UNESCO regional office, adding that the donated computers and accessories will go a long way in improving their disaster mitigation work as well as to relay early warning information in time.
He urged beneficiaries to use donated articles wisely, revealing that Gunjur Janneya Community Radio, Brikama Community Radio, Kuloro Community Radio, Bwiam Community Radio, Soma Community Radio, Brimamaba Community Radio, Bansang Community Radio, Farafenni Community Radio and Kerewan Community Radio benefited from the donation.

Publication displays:
345